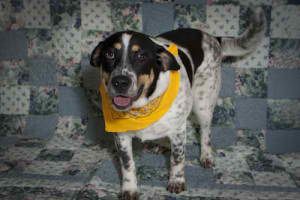 This is a link to Jumbo Jim, a basset hound mix, on Petfinder.  My mom and I are a bit obsessed with him since he has the most pathetic description ever and looks like a very sweet dog.  We can't give him a home, but I remember seeing info about animal adoptions on Tumblr before and decided to post him here.
If you're interested, he's at the Mansfield Animal Care and Control in Mansfield, TX.  You can contact them at 817-267-4799 or email them at animalcontrol@mansfield-tx.gov subject Petfinder.com Pet Inquiry: Jumbo Jim-Begging for a home- Urgent!!
Below is a copy of the original ad text.
Howdy, I was brought into the shelter as a stray doggie. I am a short boy who is big!! I am a good boy and walk on the leash and appear to be social. The people who found me were going to keep me but keep me tied up. I was glad when they decided to bring me here as I really did not want to be tied up the rest of my life. If you are looking for the unusual, I might just be the ticket for you. Please come on down and lets talk forever and ever home. See you soon. Yours Truly, Jumbo Jim P.S. I am HW negative and I have had my routine update shots and I wanna new home—yours would be great. Hi, I am desperate to get a home. I am such a good boy. I walk on the leash, I get on with others and I am a sweetie. Why does no one want me? I just cannot figure it out. Please come and give me a home and I will be your bestest doggie ever. See you soon. Yours Truly, Jumbo Jim